ABOUT US
It all started with a passion for a different kind of Christian experience...
A Christian experience that would authentically reach beyond Weekend morning services into the everyday lives of real people with real problems, doing the best they can to pursue God in life.
Br.Bose Mano Singh along with a close group of friends, family and few pastors began dreaming and praying about the potential and legacy, an experience like this could have in a world so desperately seeking to Know God authentically. God led our hearts to Abu Dhabi. It was there that the dream we now know as ELROI INTERNATIONAL MINISTRIES began.
From two families meeting in a small room, our team grew to more people. All wholeheartedly committed to the mission of TRANSFORMING LIVES and spiritually restless people would love to attend our fellowship.
OUR VISION

The vision of ELROI has always been focused on transforming lives. We want to see men and women walking with God in integrity. We want to see children growing up in Christ. We want to see families complete in Christ.
WHAT WE DO

Serve the spiritual needs of the people through biblical teaching, counselling and personal care in their spiritual enlightenment giving them Hope. So, the depressed, the hurting and hopeless can come and find help..
OUR COMMUNITY

FRIDAYS An evening to rejuvenate in Christ, Singing & Worshiping together, sharing testimonies & hearing God's Word. @ 6pm in St.Marys Catholic School,Dubai.
OUR FOUNDER
Bose Manosingh is the founder of Elroi Ministries, Abu-Dhabi, United Arab Emirates. His faith in God and relentless prayer were the two most important factors that went a long way in establishing this Church. He is also the founder of Euro Gulf safety consultant which is one of the leading fire and safety unit at UAE. He is blessed with a delightful family and are serving the Lord in many capacities.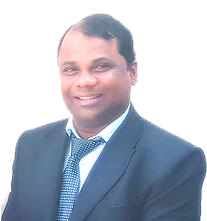 OUR PASTOR
Dr.Daniel Baskaran is the Pastor of ELROI International Ministries, Under his leadership ELROI serves as a model of ministry with a commitment to promoting the gospel of Jesus Christ through practical enlightenment of the believers, family enrichment and community development.
Dr.Daniel Baskaran is a native of Salem, Tamilnadu, India where he attended his schooling and later Apostolic International University in chennai from which he earned a B.Th. He holds a Master's degree in Divinity from Indian Institute of Missiology, and later a Doctor of Ministry. He is a songster and a composer, a Tamil Gospel Album 'Mutrilumaai' is a well known for his work.
Recognized and respected around the Christian Community as a noted Worship Leader, Preacher and a Composer. Dr.Daniel has travelled extensively to many places sharing the Word of God and blessing the lives of people. Dr.Daniel is married to an encouraging and prayerful woman named Lizy Daniel.